You know that special time in every mans life, when your 16 and you took that Dominican girls virginity, and find out that her father looks like a defensive line man on the giants and has the neck size of mad ball... Whattah special time right. hmmmmm it just makes me feel warm inside every time i think about it.

Well if you were like me you wouldn't have done any of that, well you would have done all of that and then spilled 30 beans on this asian god work.

THE RE-VIRGINATOR



The re-virginator is shipped to you discreetly in an all wood cigar box, and if that isn't comfortable and feminine enough, these brilliant asain god sends delicately place a pink silk sheet to lay under, and protect this new hymen from all the hard wood surrounding it.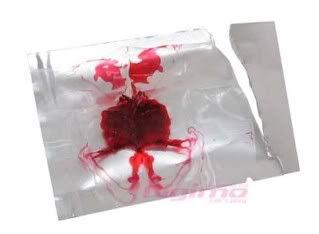 The Product is a hit in such areas as the middle east: home of the clit cutters, and asia: Home of the little girl-worn panty- dispensing machines.
Here's the product description:

"No more worry about losing your virginity. With this product, you can have your first night back anytime. Insert this artificial hymen into your vagina carefully. It will expand a little and make you feel tight. When your lover penetrate, it will ooze out a liquid that look like blood not too much but just the right amount. Add in a few moans and groans, you will pass through undetectable. Its easy to use, clinically proven non-toxic to human and has no side effects, no pain to use and no allergic reaction.


Feature:

Easy to use
Place inside vagina 15-20 minutes before intercourse
Soluble and expandable at body heat
Clinically proven non-toxic to human
No side effects, no pain to use, no allergic reaction
Made in Japan

This item will be shipped from China" -www.gigimo.com


Is this a god send or just fuckin disgusting?